Anne La Bouchardière
Annabel Gibbons - Abstract and Surrealist Painter
Biography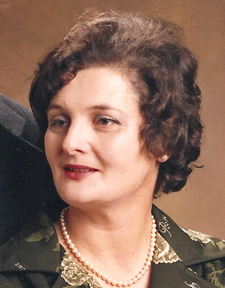 Born in India, Anne attended the Sir Jamsetjee Jeejeebhoy School of Art in Mumbai (Bombay) before taking up residence in England in the 1950's.
Married to David Gibbons she worked alongside her husband in the theatre for 35 years in the fields of wardrobe, make-up, scenery painting and set-design in Leicester, Birmingham and Solihull.
Anne exhibited in both the Royal Academy and Foyle's Art Gallery while in her teens and has exhibited more recently in Cork St., London, Birmingham, Bombay, Leicester, Plymouth, Sidmouth, Solihull and Wokingham.
Anne and David moved to Cornwall in 1991 where she returned to painting, attending a Summer School at Slade College of Art and introducing surrealism into her work. She has since continued her studies at Saltash College of Art and Plymouth College of Art and Design, gaining a Certificate in Art and Design (as part of the University of Exeter BA(Hons) degree course).
Her earlier work consisted of paintings representing emotions. She then experimented with colours and their effect upon the onloooker and tried to incorporate sounds and painted to music. Her most recent works depict the beauty of Cornwall - the moon on the water (which can be seen from her house) with the sound of the wind and the waves and the seagulls, also Cornish farmhouses with a general atmosphere of sudden rain, birds, cows and sheep which to her represents Cornwall.
Anne's work has been exhibited at Morley Contemporary Art and Liskeard Gallery in Cornwall, The RBSA in Birmingham and she regularly submits work to local exhibitions in Downderry, St. Germans and the surrounding area. She is a member of Artists International, East Cornwall Society of Artists and Drawn to the Valley.